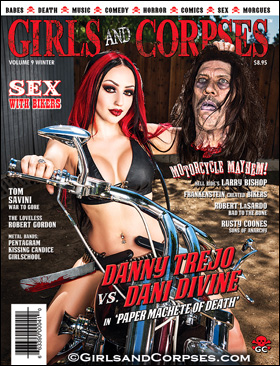 enlarge cover
Girls and Corpses is now on newsstands worldwide!
ORDER THIS ISSUE NOW
click here
Take a Hell Ride with actor DANNY TREJO (Machete) & British babe DANI DIVINE in PAPER MACHETE of DEATH. This historic motorcycle-centric issue features: RUSTY COONES (Sons of Anarchy); ROBERT LaSARDO (Anarchy Parlor); grindhouse biker star LARRY BISHOP (Hell Ride); Makeup effects outlaw TOM SAVINI; The Loveless ROBERT GORDON; James Bickert's Frankenstein Created Bikers (featuring Corpsy!); badass bands Pentagram, Kissing Candice and Girlschool; History of Biker Horror flicks; and 8 page horror comic The Tattoo Artist; more Last Laughs; and everything a weekend warrior desires. So, all you organ donors, bring your brain buckets because this rag is a real tank-slapper. Now order this issue pronto! I mean… we got DANNY Freakin' TREJO!!