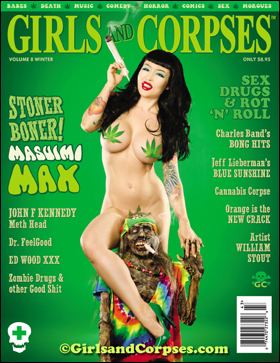 enlarge cover
Girls and Corpses is now
on newsstands worldwide!
IN THIS ISSUE...

Get high on death with our Medical Marijuana issue... featuring world-famous cover model and pot enthusiast MASUIMI MAX. Also: Roll with world renowned horror artist WILLIAM STOUT; Orange Is The New Crack; Zombie Drugs; Charles Band's Bong Hits; Breath Metal Band CANNABIS CORPSE; Count Drugula Bela Lugosi; Ted Bundy's back; ED WOOD XXX; Jeff Lieberman's BLUE SUNSHINE; SID HAIG's High On The Hog; MIKE SOUTH's Porn-a-torium; SMOKED The Movie; Stoner Recipes and a bong full of surprises! We can't share everything in this trippy issue because, well, we got high. So, stoners, order this issue now here... it will fuck you UP!