I recently did another set visit to Hustler's ongoing successful series of Classic TV porn spoofs. First, I visited Not The Brady's XXX, then Not Bewitched XXX and most recently, "This Ain't The Partridge Family XXX" (starring Nick Manning, Jason Sinclair, Tori Black, Payton Leigh and Faye Reagan).
There is nothing quite like the sight, sounds and smells of a porn set. Think of a meat locker with a steady audio of, "Oh yeahhh... uh-huh.... yeahhhh... uh-huh..." Director Will Ryder (aka Jeff Mullen of All Media Play) really knows how to ramp up the steamy action and can always be counted on for his snappy catch phrases, such as, "We need more lube! I want to see it glistening." There was so much lube going around on my last visit that you could glide from one side of the set to the other.
But what's especially groovy about these TV porn spoofs is that they actually have a story! Now, you may think that I just visit these sets to see hot babes fucking. Well... you'd be right. But the other reason is that I truly feel there has been a turn around in adult films with these XXX comedy spoofs of classic TV shows. These films have elaborate sets and lighting and even funny dialog. It's not exactly Seinfeld but this could be the anticipated crossover which was abandoned back in the 70's, following classic adult films like Behind The Green Door and The Opening of Misty Beethoven." Those films had healthy budgets, European locations and even premiered at Cannes. They were art films with sex. These Hustler films are comedies with sex. Both push the envelope of what adult films can be.
We need more of these clever and creative adult spoofs with actual plots and even singing, dancing and amazingly detailed sets, such as the Partridge Family bus (see photo). These XXX films are mostly shot at the Hustler Studios in Chatsworth and they really go all out with art direction and production design. I mean, when did porn have to become a stained sofa and the same pot-bellied, pockmarked jokers picking up porn stars in malls -- posing as innocent teens?
But these spoofs are also getting AVN awards galore (13 nominations for Not The Brady's alone) and are the highest grossing adult films. They also cast the hottest adult stars, such as: Hillary Scott (AVN star of the Year), Jenna Haze, Shawna Lenee and Teagan Presely. What's also cool are the roles cast with porn vets they they can really sink their teeth into, such as legends: Ron Jeremy (as Dr. Bombay), Nina Hartley (as Glendora) and Mike Horner (as Mike Brady).
So, pick up these fun sexy DVD's at: www.allmediaplay.com
Coming soon, look for porn spoofs of The Musters, Gilligan's Island, Beverly Hillbillies and Three's Company by Hustler. I can't wait until they do some more of the shows my father wrote in the golden age of TV (such as The Brady Bunch). I mean, who wouldn't want to see the porn version of Mr. Ed?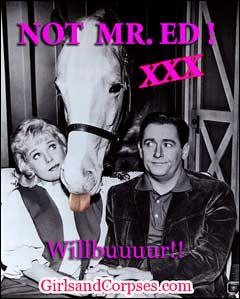 (below) Behind the Scenes of Not The Brady's part deux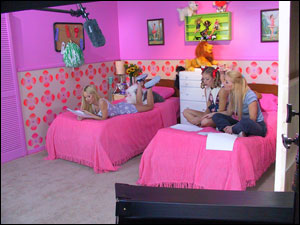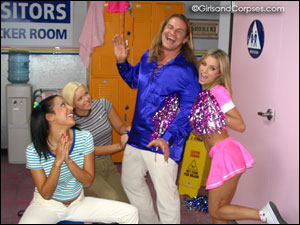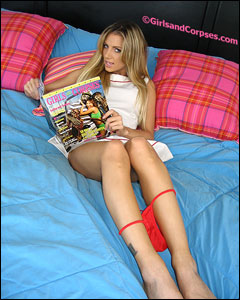 Teagan (as Tabitha in Not Bewitched) reads Girls and Corpses Magazine on the set.
©2008 (reprinted only with permission of author)