Corpsy Visits the Magical Delicious Porn Set of Not-Bewitched XXX

Yesterday, I was invited to visit the set of Not-Bewitched XXX -- and who could turn down meeting the smoking hot porn star Teagan, who stars as Tabitha in the adult film send-off of Bewitched. Beautiful, blond Teagan (formerly known as Teagan Presley) fits the role of an 18 year old Tabitha wonderfully. Teagan is flawless and you wonder how she got into porn and is not on American's top model. (Don't worry -- Girls and Corpses Magazine will be shooting with her shortly -- so hang in there corpses).

This was the last day of shooting for "Not Betwitched XXX" and we were in a modern L.A. mansion overlooking Porn Valley, L.A. For me, the most memorable moment at the shoot was when a newbie porn star I met on the set, with just nine scenes under her belt, said, as she wiped away her tears, "I don't know why, but I always cry during blowjobs." Then, she followed up with, "How many scenes do we still have to shoot? I gotta get to class!" Director Will Ryder was extremely patient but sighed when she kept looking around the room during her sex scene, said, "Where are you looking? Keep your eyes on the prize!"
The adult film Not-Bewitched XXX is part of an extremely successful series of classic 70's television show spoofs by like the recently released "Not the Bradys XXX" which received nominations as Best Comedy/Parody and Most Outrageous DVD Extras www.bradysxxx.com Also, Not The Brady's star, Hillary Scott, won AVN's Female Performer of The Year. I met Hilary on the set of Desperate Wives.
After a steamy day on the set (literally the mansion was like a steambath) and watching Teagan's scorching performance, Corpsy guarantees that Not-Bewitched XXX is going to sell a zillion DVD's .

"I'm having so much fun as Tabitha. It's been a really great experience so far and this movie is going to be awesome!" Teagan gushed, before she was called back onto the set.

Fans will especially enjoy homages to the original TV show, as Tabitha (played with relish by Teagan) uses her magical nose twitch to conjure up a vibrator in one scene and she changes a toy Ken sized doll into a life sized amourous love God, played by James Deen (who at just twenty-two years old has already appeared in 1,500 porn scenes).

Not Bewitched XXX continues the wave of popularity being enjoyed by X-Play's "Not the Bradys XXX," which continues to outperform all other adult DVD's, logging a 5th consecutive week at #1 on HotMovies.com .Next up, a Partridge Family spoof (for Hustler) and a Beverly Hillbillies romp.

Producers are optimistic that Not Bewitched XXX will win audiences over when it is released in late August and with a hilarious script, wonderful costumes, sizzling sex and an all-star cast, the movie has the early vibe of becoming a major blockbuster. Joining Teagan in the cast are fellow-superstars Jenna Haze, Eva Angelina, Sasha Grey, Aurora Snow, Sunny Lane, newcomers Michelle Avanti, Daisy Layne, Kandice Nicole, Kelly Skyline, Madison Ivy, Winter Sky, Marli Jane, along with legends Ron Jeremy and Nina Hartley as Endora. Also featured is James Bartholet as Darren's boss Larry Tate (see photo).

Not Bewitched XXX will be in stores in late August 2008 from Adam & Eve Pictures/X-Play.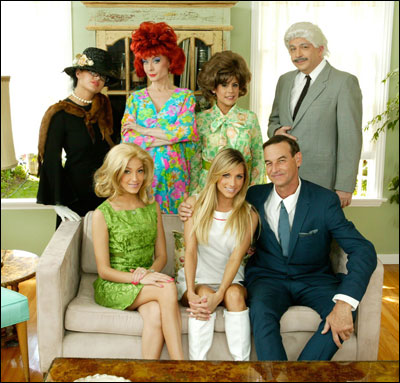 The cast of Not Bewitched XXX. Pictured in the photo from left to right are: Eva Angelina, Jenna Haze, Nina Hartley, Michelle Avanti, Teagan, Mike Horner & James Bartholet.