Let's not mumble and drag our feet here... Zombie Strippers is a modern day Grindhouse masterpiece!, with more blood and boobs and zombies than at Roger Corman's house on Christmas morning. Jenna Jameson bumps and grinds and performs admirably in her first non-adult feature film role, (that she was born to play) as a saucy philosophical stripper who gets the zombie bug and makes more money bumping and grinding as a stripping corpse.
Writer / Director Jay Lee shot the movie in just 18 days and truly I have no idea how they pulled it off. I first met Jay and his producing partner Angela Lee at the Girls and Corpses mansion where we shot Laura Bach and Jessica Custudio for our Halloween cover. They are both featured in the Zombie Stripperd and Laura Bach also has an associate producing credit --so cudos girl!
The movie begins with not so subtle swipes at our present administration, and the buddy I was with (literally a card carrying NRA member) nearly shot up the theater. Nevertheless, he couldn't take his eyes off the rest of the film which was both horrifying and comedic. I, however, happened to love the opening, which reminded me of the post futuristic television spoofs in "RoboCop."
The acting overall was much better than I expected, with these kind of low budget affairs, and director Jay Lee sucked the marrow out of every character. Each bit actor has a memorable moment and a distinguishing character trait, such as when Robert England sprays disinfectant whenever he's near a stripper.
Jay Lee goes gore galore with the zombie genre with bullets flying non-stop and heads bursting in a non-stop barrage of carnage. There is also certainly no lack of stripping and nude scenes. Let's just say you get your 7.50 worth and then some. The visual effects in Zombie Strippers are outrageous and superb. Horror fans also won't be disappointed. But it's really the humor which is king here and there are plenty of laughs, such as when someone suggest wearing badges (to tell the zombie from the humans) and Joey Medina, playing the most stereotypical Mexican of all time, says, "We don't need no stinking b... you know... maybe badges are a good idea."
The script pokes a lot of fun at the expense of existentialism, and Nietzsche taking a bashing here, but in a comical manner.
I know what you're wondering and... Yes... Jenna can act... she really can act. And she clearly knows her way around a strippers pole (no Demi Moore here). Jenna Jameson is sexy as hell. There is no lack of boobs and butts on the stripper stage and some truly funny bits, such as the superhuman zombie strippers whirling around the pole. One hysterical moment with Jenna I don't want to spoil, but if you've ever been to a Bangkok strip club...
Check out the official movie site

Five out of five corpses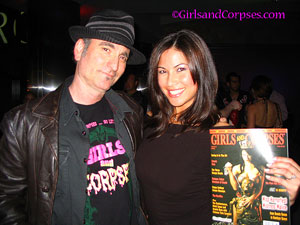 G&C Deaditor-In-Chief R.S. Rhine with Jessica Custudio (who plays Kwan) a key member of the Zombie slaughtering militia --which is appropriate, considering her last film with director Jay Lee was "The Slaughter." (For more of Jessica and Laura Bach, see our back issue here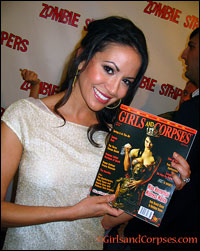 Shamron Moore (plays Jeannie) another
one of the leading Zombettes.