by Necromagickal
Photos by Ella Von Cosel
Everyone knows the legend of Lizzie Borden, how can you not? It is a dark menstrual stain on American folklore, giving us new options every time we are in a room with an axe and our parents at the same time. Everyone also knows her famous rhyme about forty whacks. It has become a Halloween date night mantra for guys trying to creepily impress a chick into giving him a kind of forty whacks that spews sexual fluid instead of arterial splatter.
Lizzie Borden represents the power of a woman scorned by controlling parents, repressed will, and the lingering stench from tossing buckets of excrement into the backyard (a chore she abhorred). What can be said about Lizzie Borden that hasn't already been stated by over exposed cable ghost hunters, academic lesbian ghouls, or hordes of cheap thrill seeking Halloween tourists impressed by a chick with only two corpses tucked beneath her late Victorian era waist cincher...
To read the complete Lizzie Borden interview order this issue now here.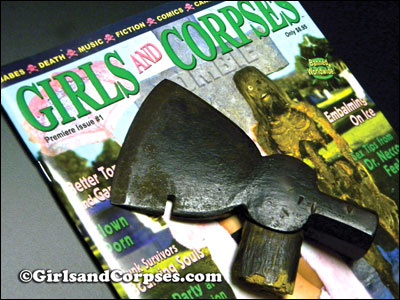 Actual murder axe head from Lizzie Borden museum