| | | |
| --- | --- | --- |
| | | Corpsy met Laurence R. Harvey from The Human Centipede 2: Final Sequence and other sickos at The Days of The Dead Convention in Atlanta. Click here for highlight pics. |
| | | |
| --- | --- | --- |
| | | Coming soon to Girls and Corpses Magazine: The one..the only...ANGELYNE. Click here |
| | | |
| --- | --- | --- |
| | | Girls and Copses teams up with Lou Rusconi for this take on that Joker in Colorado. Click here |
Behind-the-Screams with GILBERT GOTTFRIED, Allie Haze and Sensi Pearl at Girls and Corpses winter cover shoot.
Click here for the video
| | | |
| --- | --- | --- |
| | | Corpsy's back from Days of The Dead and hosting The Miss Dead Indiana Pageant. Click here for a couple preliminary photos. Many more to come! |
Our Girls and Corpses Magazine Senior photo editor Mark Berry took the last photo of Sage Stallone alive at our photo shoot: ETOnline
MAnd the Miss Dead Atlanta winner is...


Liz Stallwood.

So, if Stallwood gives you big-wood, click here for all the sexy pageant pics from Atlanta!
Eli Roth praises Girls and Corpses Magazine as he receives award from Corpsy at Shockfest:
Click here
Robert "Corpsy" Rhine has just completed acting roles in:
Snake Club: pics
The Pandora Experiment: pics
and Strangely in Love.
Tom Sizemore rehabs with Girls and Corpses.

Click here

for more celebrities and mayhem from The Day of The Dead convention in Indiana.
Check out Robert "Corpsy" Rhine's 'down under' interview in the Australian cult magazine:

Horror/Sleaze/Trash
Watch Corpsy host The Miss Dead Indiana Pageant, featuring winner Bonnie Rotten (who had just turned 18): YouTube
Girls and Corpses is sponsoring DAYS of The DEAD ATLANTA convention March 9-11th. Corpsy will be hosting The Miss Dead Atlanta Beauty Pageant. Winner gets a shot at a spread in Girls and Corpses Magazine. Click

here

for more info.
Girls and Corpses is sponsoring the

MAD MONSTER PARTY

convention in Charlotte NC March 23rd to 25th. Corpsy will be hosting

The Miss Horrorlina Bikini Pageant

. Winner gets a shot at a spread in Girls and Corpses Magazine. Click

here

for more info.
Dread Central reviews SICKCOM: Deadcentral.com
Nice plug here for G&C in the UK at Horror Vixens!

Robert "Corpsy" Rhine presents ELI ROTH the Shocking Filmmaker of The Decade Award. For more pics, Including Miss Shockfest pageant,

Click here.
Robert "Corpsy" Rhine and his Corpsettes (Tasia and Lillian) will have an exhibitors table and be sponsoring one of our favorite bands Potty Mouth at the Whiskey-A-Go-Go in Hollywood who will be performing along with: MENTORS, MOTOCHRIST, WALKING TOXINS and LET THE WO. If you have never seen Pottymouth perform it is a WILD show -- not to miss!! Fuck Christmas... have a brew or two and listen to some kick ass bands and meet Corpsy and gals. More info here:

www.whiskyagogo.com

and

www.myspace.com/toiletstew

Thursday, December 15, 2011
6:00pm - All Ages.


for info call (310) 360-1110 or go to
www.myspace.com/mproductions

Whisky A Go Go
8901 Sunset Blvd.
West Hollywood, CA, USA 90069
| | | |
| --- | --- | --- |
| | | Corpsy had a blast on Spice Radio with Christy Canyon and Ginger Lynn, as their cookies were molded by our very own James Spinner! |
| | | |
| --- | --- | --- |
| | | Check out some pics from our Meltdown Comics party with Tera Patrick, Joslyn James, Dr. Susan Block, William Lustig, Corpsy, artist Lou Rosconi, Paula Labaredas, artist Peter Adamyan and the band Sinister Mass. |
TERA PATRICK, WILLIAM LUSTIG

and

JOSLYN JAMES

sign for

GIRLS

and

CORPSES

Magazine at

MELTDOWN COMICS

on Friday August 12th from 7:00 - 10:00 p.m.

click here for more info.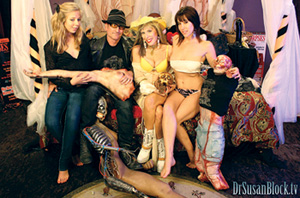 On Saturday August 6th from 10:30 pm to midnight adult superstar Tera Patrick and Corpsy (Deaditor-In-Chief of Girls and Corpses Magazine) will guest on The Dr. Susan Block show. Watch the madness here
Winner of The Miss Dead / Girls and Corpses Beauty Pageant at the Days of The Dead Convention in Indiana is (drumroll)

BONNIE ROTTEN!


Click here for all the pics from Indy.
On Friday August 5th at 12 noon TERA PATRICK will be a guest on Spice Radio (Sirius/XM) with hosts Ginger Lynn and Christy Canyon to discuss Tera's summer issue cover of Girls and Corpses Magazine.

www.siriusxm.com/spiceradio

. Channel: Sirius 103 | XM 103
Monday July 18th at 8:00 p.m. PST Corpsy will be a special guest on the Reverend Mel Show along with his Corpsette Sasha Sweet. Show streams live. Watch it July 18th 8:00 p.m. here: tsrnetwork.com

See what you missed in Vegas at The Adult Entertainment Expo. Click here for galleries:

Sin City Speaks Radio
NBA Rookie of The Year Blake Griffin palms Girls and Corpses Magazine at the Guy's Choice Awards.

SLAM DUNK!

Girls and Corpses will be exhibitors at The Weekend of Horrors May 14th & 15 at The LAX Marriott. Click here for details.

Girls and Corpses continues to invade Germany and just filmed a segment to air on RTL TV to air in mid-May during prime time. Also, this story was just featured in Germany here www.horrorpilot.com
Our Girls and Corpses Spring issue party was insane! A 24 hour sexy pool party at Master D and Lilly's mansion with hot barbecue, fetish galore and sex tents. Think Caligula with corpses!

Click on corpsette Heidi Shepherd for more pics

.

Watch The Butcher Babies perform live at the party. Click here.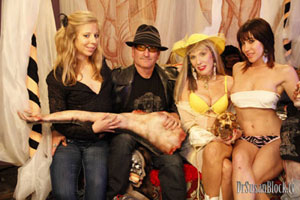 Listen in as Corpsy visits Dr. Susan Block with his sexxxy Corpsettes Sasha Sweet and Chastity Lyn. Crazy show!
Click here
to listen. And check out these behind-the-scream photos of Corpsy, Sasha Sweet and Chastity Lynn on The Dr. Susan Block Show:
Click here
.
Corpsy

reports from the dead carpet at the

SPIKE TV SCREAM AWARDS.


Robert Rhine "Corpsy" is interviewed on SCREAM TV here.
LA Weekly videos highlight three killer Girls and Corpses events

:

The Girls and Corpses body bag show
click here

Egyptian issue/SAW signing party
click here

Girls and Corpses magazine
25th anniversary party
click here

LA WEEKLY feature story on Girls and Corpses
click here
Our Girls and Corpses Winter Mummy Issue signing party at Aqua Lounge was a smashing success for us (and our co-horts from the SAW parody porn).

Giant snakes, sword swallowing, porn stars, and we even had a surprise visit from legit SAW director JAMES WAN!

Click here for more pics and video links.
G&C new issue is featured at Horrornews.net
Our Pussy Magnets are featured in Bizarre Magazine's Buy Curious page. You can order Pussy Magnets in our store

here

.
Our pre-Halloween party at DragonFly was a smashing success.
Check out the following photo links:
Robert Rhine (aka Corpsy) interview in Hustler: Click here.
We hate to say I told you so... but... George Lopez is divorcing his wife Ann, after she donated a kidney to him. Here is the cartoon we ran back in our summer issue. I wonder if she'll get half the kidney back in the settlement.

TMZ broke the story here

click here to enlarge
| | |
| --- | --- |
| | Listen now to Robert Rhine (Corpsy) on LA TALK RADIO (Combat Radio) with hosts Ethan Dettenmaier and our own cover star Dr. Camden Toy: Click here |
Girls and Corpses is #1 on the
Huffington Post's
list of the
"Most ridiculous magazines of all time."
Please vote 10 to keep us in the top! Most ridiculous!
Click here
| | |
| --- | --- |
| | Girls and Corpses Magazine is an official sponsor of New Jersey Zombie Walk this Halloween, Saturday October 30th, which is going for a Guiness Book World Record 5,000 Zombie walkers THE WORLD'S LARGEST UPRISING OF THE UNDEAD! Check it out here and find out how to join in the walk: www.njzombiewalk.com. We will have a vendors booth at the NJ walk helmed by our girls and corpses. |
| | |
| --- | --- |
| | Great review of Summer Alien Autopsy issue at SHOCKYA: Click here |
| | | |
| --- | --- | --- |
| | | A huge thank you to all of you who participated in our event last night at Meltdown Comics. I appreciate each and everyone of you from the bottom of my rotting heart. It was a great event! Special thanks go to our Hearse drivers, over at Have Hearse will Travel, and also our two amazing bands who flew in for the event: The Fabulous Miss Wendy and The Reach Around Rodeo Clowns. Also, massive thanks to all our featured guests from our Alien Autopsy issue who dropped by: Harland Williams, Camden Toy, Brooke Lewis, Mike Dusi, Jeremy Luke, Talisa Brown and, of corpse, who can forget our gorgeous Hustler stars Scarlett Fay and Andy San Dimas who even climbed into a coffin together! |
Finally, a huge thanks to Meltdown Comics for hosting the event -- without whom we are but a corpse without a grave. For more photos from the Meltdown party, click here
| | |
| --- | --- |
| | |
Grave review of our
Summer Alien Autopsy issue:
Click here
The #1 horror news website, Horrornews.net features "Bodies In The Basement" video and the Girls and Corpses party! Click here
Robert Steven Rhine's book "Satan's 3-Ring Circus of Hell" is well reviewed here. This book can be ordered at CorpseMart: GirlsandCorpsesStore.com
LA Weekly listed our G&C party on the top things to do this weekend: Click here
Review here of our Vol. 4 Summer issue in House of Horror.
Listen here to Girls and Corpses got a nice plug on the Bay Area own radio station 105.3 FM
Philip Kim of Famous Monsters says his inspiration is Forrest JACKERMAN! Typo of the Decade Award! Read here
Want to watch a

real alien autopsy

on

G4

? Girls and Corpses was featured on G4's Electric Playground on July 30th This 'out of this world' segment was hosted Miri Jedeiken:

www.elecplay.com
BILL PHILPUTT, FORMERLY OF FAMOUS MONSTERS MAGAZINE, JOINS GIRLS AND CORPSES

Girls and Corpses Magazine is proud to announce the hiring of Bill Philputt as Senior Talent Liason.

"We couldn't be happier to have one of the best connected guys in the horror field," explains Girls and Corpses Publisher/Deaditor-In-Chief Robert Rhine, adding, "Bill will help us expand our brand and is a fantastic addition. I can't imagine anyone who would not want Bill on their team -- he is extremely well-regarded in the horror industry, especially by talent."
Bill Philputt is a celebrity talent manager from the world of television, film and music with over 15 years of experience booking talent for shows such as: HorrorHound Weekend, Rock & Shock, HorrorFind, Spooky Empire and Monster Mania Con and others. Philputt was also a producer on "Never Sleep Again: The Elm Street Legacy" and "His Name Was Jason: 30 Years of Friday The 13th" as well as music videos for Anthrax, S.O.D., Motley Crue and Pantera




Rhine adds, "We have had some great talent on our Girls and Corpses covers, including: Sid Haig, Sheri Moon Zombie, Danielle Harris, Bill Moseley, Andrew Divoff, Scout Taylor-Compton, Tom Green, Tiffany Shepis, Mary Carey, Howard Stern (dead) and others. Bill Philputt will continue to find celebrity talent and top bands to grace the covers and pages of Girls and Corpses Magazine."




Girls and Corpses summer Alien Autopsy issue, featuring: comedian Harland Williams, scream queen Brooke Lewis, actor Camden Toy ("Buffy The Vampire Slayer") and Doyle Von Frankenstein (formerly of The Misfits), will hit newsstands in July.
May 21-23rd

Girls and Corpses will be exhibiting at

Creation Entertainment's Weekend of Horrors

. Come for the girls... stay for the corpses or visa versa. Visit us at

Table 56. More info here
May 28th - 30th Girls and Corpses will be exhibiting at Rock'n Comic-Con. Come see our Corpse guitar and Doyle (of the Misfits) original Annihilator guitar. Our friend Jim Smith (Co-creator of Ren & Stimpy will be at our booth all weekend doing drawings or fans). Jim will also be playing the "Ren & Stimpy: theme song he wrote and performed on the series. Also, we will premiering the our animated Music Video "I'm Jusy A Crazy F**ked UP Bitch" (sung by The Fabulous Miss Wendy) and animated by Pretend For Real Studios. More info here
R.S. Rhine is interviewed in the new edition of Ax Wound Magazine
More news about Girls and Corpses: Emm Report 1 and Emm Report 2
Corps

y (Robert Rhine) performed a live autopsy with porn stars

Brooke Belle

and

Lexi Love

on Unvanilla TV!

Click here for all the pics!
Corpsy was interviewed by Dai Green for HorrorNews.net

Podcasts From Hell

.

Click here for and click under the 'Blogtalkradio' Podcast From Hell player to listen now!:

R.S. Rhine (Deaditor-In-Chief) and Dai Green of HorrorNews.net
Great review in Horrornews.net of our Springtime For Hitler Issue! Read here
GIRLS and CORPSES MAGAZINE will not endorse or attend the FAMOUS MONSTERS CONVENTION July 9-11, 2010 in Indianapolis, Indiana. Read why
here
Our 'Springtime For Hitler' issue is circumcised in

HEEB Magazine
It's 'Springtime For Hitler' in

XBIZ
Girls and Corpses was featured on the #1 TV Entertainment show in Germany Renners Hollywood. Watch here.
Read Robert Steven Rhine's naked interview at Comic Monsters
Listen to Corpsy on

Forgotten Voices Radio

on Thursday December 3rd at 6:30 p.m. Pacific time and 9:30 p.m. Eastern time here:

forgottenvoicesradio.com
America Horrors meets Girls and Corpses: Click here.
Bizarre Magazine features the 2010 Girls and Corpses Calendar in their December issue's Weird World Treats. As Bizarre Magazine says, "It's that time of the year again! Make sure your 2010 is filled with ladies hotter than nuclear-heated porridge and cadavers colder than Vanilla Ice's freezer."
Play Bizarre Magazine's Girls and Corpses Calendar competition and win!

Click here for details
Our signing for the Winter issue of Girls and Corpses

went great with celebrities: Bill Moseley, Andrew Divoff, Clare Grant, Jillian Murray, Jacqui Holland and even Seth Green. Here are some two photo links from the event:
See Corpsy in LA Times: click here
Watch Corpsy on Fangoria Radio from Vegas!
click here
| | |
| --- | --- |
| | LA WEEKLY feature story on Girls and Corpses click here |
Censorship battle over Girls and Corpses hits news! Please leave a comment on site:
click here
Girls and Corpses is mentioned in Entertainment Weekly by actress Kristen Bell (Veronica Mars). Thanks for the plug Kristen! Next, a spread in Girls and Corpses Magazine!
Come to FANGORIA TRINITY OF TERRORS
October 30th - November 1st at The Palm Hotel and Casino where Girls and Corpses Magazine will be exhibiting with some of the top names in horror including George Romero. This is the first time Fangoria will be having an event in Las Vegas and there are many horror celebs set to attend, and bands including Slipknot and Rob Zombie. Click here for more info.
Come to Las Vegas with Girls and Corpses for Halloween Ball where we will be exhibiting at The Hard Rock Hotel on Halloween night Oct. 31st! Click here for more info.

The mother of all Halloween Blowouts in Las Vegas is the annual Fetish & Fantasy Halloween Ball, held this year for the first time at the Hard Rock Hotel & Casino's new concert facility. Liberate your kinky party animal. One of Maxim Magazine top 5 events to do before you die!
Asylum UK has once again named us one of the weirdest magazines ever: Click Here
| | |
| --- | --- |
| | FANGO RADIO on SIRIUS/XM interviewed Girls and Corpses Deaditor-In-Chief Robert Rhine (Aka Corpsy) on September 11th with hosts Dee Snider (Rotstar), Tony Timpone (Publisher of Fangoria Magazine) and scream queen Debbie Rochon. |
| | |
| --- | --- |
| | LA WEEKLY goes to HELL with Corpsy! Click here for pics and to also watch the sick slideshow. |
| | |
| --- | --- |
| | HorrorNews.net is HOT for Girls and Corpses Magazine. Read their latest review here |
| | |
| --- | --- |
| | We won another prestigious award, this time from 3D Review Magazine! Read about it here: www.rollanet.org |