back
CORPSE PRESS
updated May 1, 2006

Girls and Corpses meet APE in San Francisco, at the Alternative Press Expo:

| | |
| --- | --- |
| | |
| Hollie Stevens (star of "Clown Porn") models her furry slippers at The Alternative Press Expo -- a gift from Girls and Corpses Publisher R.S. Rhine | Ron Turner (center) legendary originator of Last Gasp Comics (that launched ZAP comics, R. Crumb and the whole underground comic books movement in the 60's) joins XXX porn star Hollie Stevens and writer R.S. Rhine at their APE booth in San Francisco. |
| | | |
| --- | --- | --- |
| | | |
| Jim Smith, co-creator of "Ren & Stimpy" provided non-stop music throughout the two day exhibition. Jim wrote and played the theme song for The Ren & Stimpy Show and also tours with his band Freehead. | Jim Smith, comic book boy genius, poses with Hollie Stevens, porn prodigy. | The lovely Hollie Stevens, goes where no porn star has gone before, deep throating a human eyeball. |
| | |
| --- | --- |
| | Our grave digger Kevin Klemm of The Ed Gein Collection was interviewed by The Haunted Report: Read about it here: www.hauntedreport.com |
| | | |
| --- | --- | --- |
| | | |
| | | |
| | | |
| Girls and Corpses Magazine is featured in the March edition of VIRUS Magazine (Europe's leading horror magazine). Dr. Virus interviews Robert Steven Rhine about where the bodies are buried. | | R.S. Rhine is inteviewed in the April '06 issue of Red Scream Magazine |
Livid Looking Glass Magazine Podcast: Show number 4 is co-hosted by Robert Steven Rhine, the editor of Girls And Corpses webzine and author of MY BRAIN ESCAPES ME, the comic books SATAN GONE WILD, CHICKEN SOUP FOR SATAN and SATAN'S 3-RING CIRCUS OF HELL and other delightfully twisted publications. The show features music by The Tiger Lillies, No Tears, Echo Us, Dance Planet X, Daemonia Nymphe, CTRL, Smoke & Mirrors and Count Smokula. Listen to podcast now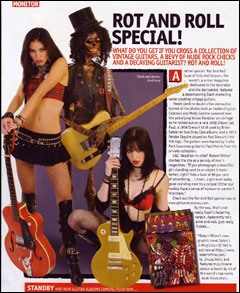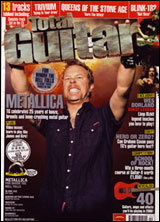 G&C Magazine is featured in the April '06 issue of Total Guitar Magazine (Europe's leading music magazine)
Mass Movement Magazine UK - March 2006 Edition - Interview with R.S. Rhine

"Okay... so Haunt-X didn't suck, after all. I had been warned, several times about the dangers of Haunt-X. Not one to shy away from horror, I went with the flow (actually against the flow in bumper to bumper traffic to LAX) and commandeered my Girls and Corpses booth at Haunt-X for two days in February. I give Haunt-X, four bloody stumps, way up, for the way they handled the convention. Very well organized. Lots of fans showed up, B (really C) celebs, and horror aficionados and probably a few serial killers. My corpse wrangler at Girls and Corpses Magazine shared the booth and the rotting cadavers stopped many in their tracks. My only complaint was being in the back near the hissing and thumping pneumatics. That and the sound loop from "The Exorcist" movie soundtrack which is still playing on a loop in my head, "Mother! Mother!!!" It's enough to possess you. But that's what Haunt-X is all about -- murder and mayhem and they did a bloody good job. I would exhibit at Haunt-X again, gladly, in another booth... by the front.
| | | |
| --- | --- | --- |
| | | |
| Michael Berryman ("The Hills Have Eyes") can't take his off the horrific "Satan's 3-Ring Circus of Hell" | Bill Moseley ("The Devil's Rejects") points out the Spawn of Satan, R.S. Rhine, while Reggie Banister ("Phantasm") figures out how to pick Rhine's pocket. | Leatherface, R.A. Mihailoff (star of "Chainsaw Massacre" III) wears his G&C t-shirt, moments before breaking Rhine's neck. |
| | | |
| --- | --- | --- |
| | | |
| R.S. Rhine shares a corpse with actress JULIAN BERLIN ("The Darkroom," "Death By Engagement" "Domino") at Rhine 's Haunt-X booth in Los Angeles to promote Girls and Corpses Magazine. | Eileen Dietz (Captain Howdy)from "The Excorcist." Of the food at Haunt-X, Eileen felt like puking pea soup. (Actually, she told me it was Andersons). | R.S. Rhine and Kevin Klemm sharing a tender moment between excavating corpses. |
| | | |
| --- | --- | --- |
| | | |
| R.S. Rhine and bloodthirsty fan at Haunt-X (with a see through dress). | Makeup legend (also actor and director) Tom Savini visits Rhine at his Girls and Corpses booth. | Find the scary picture. |
Magazines:
Maxim Magazine (UK, Sept 2005) – Article.
Maxim Magazine (Czech, Sept 2005) – Article.
FHM Magazine (Germany, Sept 2005) – Article.
FHM Magazine (France, Sept 2005) – Article.
FHM Magazine (Singapore, Sept 2005) – Article.
Bizarre Magazine (UK, Sept 2005) – Article
Bizarre Magazine Special Calendar issue: Girls and Gimps
Stuff Magazine (U.S. January 2006)
Penthouse (Australia, Oct 2005) – (Halloween issue) Article.
Total Guitar Magazine (Europe's #1 music magazine) April 2006 issue
CKM (Eastern Europe) Article
Fangoria Magazine (American's leading horror magazine) Interview
Rue Morgue Magazine (2006)
Virus Magazine (Europe's leading horror mag) March 2006
Heavy Metal Magazine (Nov 2005)
Mass Movement (UK, March 2006)
Red Scream Magazine (April 2006)
Radio:

WMMS Rocks Cleveland 100.7 FM (Rhine guested twice)
The Big Dumb Fun Show - The highest syndicated and listened to show on the Internet (R.S. Rhine guested with Venkman)

Ocean 98--WOCM--98.1 FM
"Bulldog and the Rude Awakening"
Broadcast throughout Maryland, Delaware, Virginia, and New Jersey.
Also heard on the Internet at www.irieradio.com

98ROCK Baltimore "Kirk, Mark & Spiegel" Morning Radio

Cable TV:

Adelphia Cable: Horror / Kung-Fu Theatre (Oct 2005) – Halloween Show

Internet TV:

Music Plus TV - Geek Rawk With hosts Don and Kasey
Music Plus TV - Aural Salvation with host Rev Mitz -

PODCAST:

Rotting Flesh Radio (Dec 2005) (2 times) - Interviews with R.S. Rhine and Kevin Klemm
Livid Looking GlassLivid Looking Glass Magazine Podcast: Show number 4 is co-hosted by Robert Steven Rhine.
| | | |
| --- | --- | --- |
| | | VIRUS - March, 2006 |
| | | | |
| --- | --- | --- | --- |
| FHM France - September 2005 | | | Bizarre UK - September 2005 |
| | | | |
MAXIM UK - September 2005
Australian Penthouse - October 2005
back