INBOX: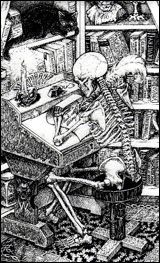 Letters To The Deaditor:
Well, we've been inudated with your email from all over the world since G&C Magazine went to press. I think we saw the letter s WTF a thousand times. We also got hundreds of photos from young lovlies you wanted to be our next corpse cover girl. So keep those comments and photos coming!
Here's what you are saying about G&C Magazine:

" Corpsy! This year, I'm giving you something really special---ME! Yeah, you heard me right---ME! There's a catch, though. You have to wait until I'm dead. Hear me out. I have decided that when I die, I want to donate my body to you. Yes, you heard me right. I am going to donate my body to Girls and Corpses so you will have a sexy corpse to match your sexy girls. I'm talking girl on girl corpse action here. You can thank me when I'm dead. xoxo ♥ your future specimen"

Erin

"This magazine has everything! Links to buy calendars so I can keep track of my dates all the while looking at hot chicks and dead bodies (which I couldn't resist buying) Links to buy dead body furniture and lighting (which I will eventually have to buy) and even links so I can turn my house into a serial killers wet dream, (the bed sheets are a definite) I even get comedic interviews, comedic articles, and writers with a great sense of humor... who could ask for more?"


Ryan Sunagawa's

Hey Corpsy!
"I dig girls and corpses because it's delightfully scandalous, fun, flirty, funny and perfectly "pervalicious" and well who can resist a cute corpse! woooow!!"

Grace

"I got my calendar the other day and I love it!

Andy

Got my calendar in the mail yesterday.... Awesome job!! Gotta love March with Christa and Wendy my two new favorite actresses after seeing 2001 Maniacs!!!

The Dead Guy

"What a fuckin' brilliant idea! Girls and Corpses, awesome!"
Stevey Gore

"I found your profile on Barefoot and Independent's page and I wanted to express my immediate love. I am currently finishing my pre-med to go into mortuary sciences and also have made most of my living as a fetish and alternative model. I just wanted to tell you have a new fan!"

Kandice AKA Levidity Desire

"I fucking love it! I"m so glad there is finally a magazine with the best of both worlds, hot babes and rotting corpses.... fucking beautiful! "


Jan HELLe


"Girls and Corpses... a major undertaking"
Sigmond Twayne (author of The Mental Cookbook)

"Me, my lady at my side and Girls and Corpses Calendar. What more could a dude want for X Mas?"

Deaths Evil Twin

"Girls and Corpses puts the FEEL in NECROPHILIA!"

Director Joe Dante (Gremlins, Small Soldiers, The Howling)

"Your site is so far out!"

Alistair

"Girls and Corpses is genious! "
Graveheart

| | |
| --- | --- |
| | "How has no one thought of this before? You rule in a way no one ever will again.-- Chris |

"I love Girls and Corpses Magazine because it is disturbingly delightful & outstandingly macabre! Take Hot Bitches, Corpses, Sex & Death then throw it in a blender and there you have it! A morbid mindfuck of the highest callibur that's sure to please the necrophile in anyone!"

Besides, Every girl needs a good boning once in awhile if I may say so myself! ha ha

Gashley Darcane

"You guys are extremely, extremely, extremely, extremely, extremely, extremely, extremely nuts. And I mean that in the nicest possible way.

Jonathan Maberry
Author of GHOST ROAD BLUES (Pinnacle Books)

"Amazing. Who came up witrh this idea is a god among men."
Hell Primer -- The Band

--To our considerable fortune, we happened to stumble across your site and absolutely loved what we saw. We too like corpses. And women. But putting two things you love together in a mag? Genius.--
Derek Francis Small Fish Magazine


--Girls and Corpses makes me look beyond the decay and into its delight.--

The Real Deal

"this may possibly be the greatest idea in the history of everything... definitely the best coupling of two entirely different ideas ever!--
Parker


--wtf did i stumble across?? This is actually a mag?? Ok man, add my ass and youre going on my "top friends" for sure. Even if we dont talk, fuck it..Something like that MUST be on my page.--
Cat


--Oh snap! You have Uniball, an inspiration to us all. Reminding us to check for testicular cancer. Yay! Tom Green rocks. You corpse-lovin' fools really make my day sometimes. Thank you for the many smiles you have provided.--


Mama Doom

"You make it okay that I'm creepy."

Brooklyn

--im sorry but i love porn and all but you guys are fuckin sick GIRLS AND CORPSES whats next? im sorry for being mean.--

Steven

Dear Steven --

Be careful. Porn will eat a hole in your brain and give you arthritis in your right hand. Apparently, our corpses are getting hotter women than you are. You have won a special award from Girls and Corpses: Diploma

Congrats!
Corpsy

"Now I can't wait to die!"
F.C.

Just stopping in to say "Hello and Happy Thanksgiving!" I love this magazine cover Tom Green was perfect to have beheaded. Keep in Touch!

Daisy Layne

"Damn, first it's peanut butter & chocolate, now it's Girls & Corpses...I can totally die happy now!

Annie


*Girls and Corpses is morbidly sexy!*

Penny Lane

"I love the dead. I spent an entire morning in the Louvre in the room where they had a 1000 year old preserved corpse, yelling "ROTTEN DEATH" into the bullhorn I had made out of my map. Mort Flesh.

-RAQ"

--sex, death, music, babes? count me in! what is there not to love about girls and corpses magazine? fuck the haters.--


Rebs

I love Girls and Corpses Magazine, i wish i could be one of the Pinup Girls or otherwise being one of ur Corpses after i died. I WANNA BE A CORPSY GIRLY!!!!
Much love, Sk8GrrL


"I FUCKING LOVE YOU GUYS"

Redman

lol... i saw an advertisement for this magazine on television & right away i thought the whole idea of "girls & corpses" was one of the stupidest things i've ever heard. but apparently there are several people who feel otherwise, (although i would have to assume they are a bit twisted.) so good luck with your magazine!! it gave me a good laugh lol. Bunny
Hey Funny Bunny --
We love comments like yours. In our over-visualized mainstream media cesspool, to catch anyone's attention is a feat. If we can turn a few minds to our way of thinking we will soon be on our way to world domination. I agree Girls and Corpses is a stupid idea. But you like us, you really like us!
RIP, Corpsy

I am beginning to wonder.. is it strange that I do not find myself shocked.. appalled.. disgusted? That I have the urges to share the corpsy-fun with friends, family members, loved ones..? Hmm..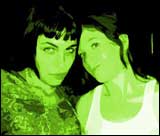 On Life, One Death, One.. xo MAMA DOOM xo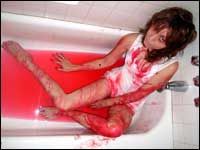 mmmmmm you sure know how to throw a party!!! I had a fabulous time ;) Girls and Corpses rocks my socks off!!!! XOXOXOXOXOXOXOXOXOXOXOXOXO
gobs of sloppy gory kisses -Elissa Dowling "

When I die I hope you guys remember me. HEll yeah bring chicks LOL

Luke
Hey Luke --
You might want to check out our corpse model ad in this issue. You could be our next cover boy!

Corpsy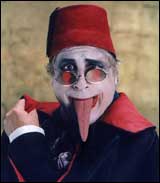 I know I'm not a goil, or a corpse (at least not anymore) but your magazine is hilarious and extremely educational! In all my 496 years, I only now loined vhat is the true meaning of queefing!

Count Smokula

You actually use real dead to do this? your fucked up!
Chelsea Choked

Hey, they signed a release!
Corpsy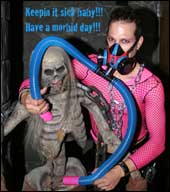 Life was meaningless until I found Girls and Corpses!!!"

Sindy Saint

Once again a masterpiece and Amber Kittle is a firecracker. Damn I love this time of year-- bring out your dead."
Robbie

hi, my name is myla and i just found your page. I must be honest its a bit weird, girls and corpses, but i love it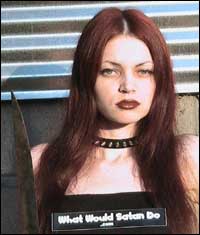 Girls and Corpses has to be the coolest zine I've ever seen. Fucking genius, I tell you! GENIUS! Kudos on the EXCELLENT interview with the hottest girl who rolls with corpses, Sheri Moon Zombie. Girls and Corpses ROCKS!
xoxo Deadly Damsel

I looked up "vaginal flatulence" and found your site. I don't get how that topic can relate to this kind of magazine. Please explain.
Bebi

Just lucky I guess.
RIP,
Corpsy

Best Fucking Issue Yet...Best Magazine Out There! You make me smile! Steven

"Holy crap have i found a subculture.. that cover is so nice.. i cant wait to read the magazine while i am on the throne."

Bloody Colin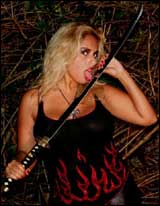 "Hot girls in sexy costumes, horror and corpses too...this is my kind of mag!" Traci Islands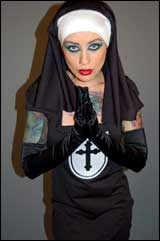 I can't wait to meet you.... You guys are the sickest bunch of mother fuckers I know..... I LOVE YOU!!!! makes me feel like home.

~Mizuz Inkaholik


"You may never get these girls, but you are guaranteed to be a corpse." -Stephan Miller, Gunslinger Media


"Tiffany Shepis looks sssssssssHOT!!!!!! Love that green-eyed starlet... mmmmmmm that sasquatch... I like my men big and hairy with enormous feet geerrrrrrr they could pitch my tent any day" - Lissa Slasher


I LOVED the Abominable issue! Will you be doing any more simian issues? -Zira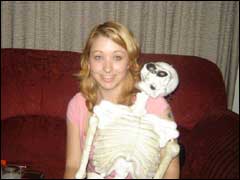 i have a couple questions, if you dont mind answering, um first...are those real corpses? and if they are.. is it legal to use them? im not judging im just curious, because i had heard of sex with dead people before, but i figured it was pretty much illegal and not made public. anyway, thanks for taking the time to read this, im sure you get alot of emails, like this. Alexis
Hi Alexis --
All the corpses we use are 18 or older and have all signed releases. Sex With dead people is illegal, at least in California -- thanks to Gov. Arnold. But our models are not photographed nude, nor are they depicted having sex with corpses -- at least on camera. What the girls do with our corpse models after the shoot is their business. I wasn't sure what you meant by "public," but sex with corpses in public is also illegal -- though it is perfectly legal to have dinner and a movie with a corpse —if that's what you're asking.

RIP,
Corpsy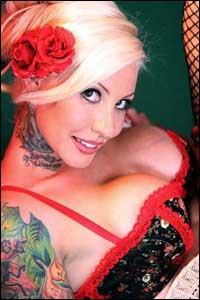 "I love the concept!! It takes a real woman to appreciate the feeling of a quiet man. The control is all hers!!" - Lorrie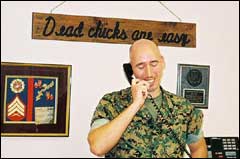 "I was hoping you would enjoy the sign in the background I had made for my office." - Bubba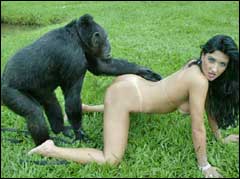 "That big furry creature in your Abominable issue was almost as sexy as director Ryan Schifren. I'd him to do me monkey style. Lol." - Monika M


" All the girls here in Blandeville are dead either literally, or figuratively so 'Girls and Corpses' is something of a lifestyle magazine for me. Kinda like Better Homes and Gardens with rotting flesh." - Fulci

"Thats the best cover ever.....Nothing is closer to Heaven than Tiff with corpses!" Deadpit Radio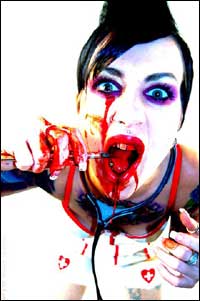 "I love Girls and Corpses Magazine!! Every girl wants her man stiff!" - Mizuz Inkaholik

"i absolutely love this mag!!!" - Gangsta

"Ok man you've always got my support which also means you have Oneness Darkness support too. Its nothing spectacular , but we love your ideas man. Girls Guts and Death whats not to want. The latest camping is fantastic I almost had the urge to get off my ass and buy a tent then I realized there was one in my pants. Man, keep the issues coming and well keep on making music about sleeze, drugs, and victimization." - Robby (Disgruntled Jesus)

"Brav-fuckin'-o. This is the best photo spread yet!" - Ryan Rotten

"IM IN MAD LOVE WIT THE WEB SITE" - D.MURDEROUS"

"Everything about your mag. is amazing and brilliant. I am in love w/ it all." - George

"You know I've got love for my corpsy homies... Have you ever thought of making a hip hop edition of girls and corpses with deejays, emcees, breakdancers (b-girls), and writers (grafitti artists).. that would be sooo hot.. or cold actually ha ha hahaha." - unDying Love, Mama Doom

"SUBLIME!!!! SUBLIME!!!! GIRLS AND CORPES RULES!!! STAY EXTREME!!!" - Extreme Video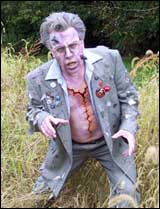 "You have my sense of humor!!! Great ideas!!!" - Dead Guy

"Tomb it may Concern;Great website. I absolutely fucking love it. If it ever becomes a print mag, sign me up for a subscription. I'll store the issues next to my issues of Bizarre and my other literature. Keep up the good work!"
William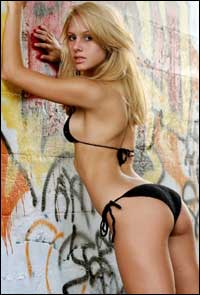 "Wait, there are girls and corpses on here? I came for the hot pics of R.S. Rhine! Bring on the thong, Robert!"

Cyn

"Just discovered your site and all I have to say is "AWESOME"!!!! I work in the "adult industry" myself and it's so refreshing to see something that combines two awesome things, hot ghouls n' horror!!! Two thumb's on the Belladonna contest too (gawd, what a woman!)" Stephanie


"Absolutely lovin' you guys (and girls!)... Hilarious, morbid and damned sexy, all at the same time - fan(ny)tastic. Good old John Landis, it's cool that he's such a fan - top bloke, great director and the perfect endorsement. Keep up the fab work."

Yours in gore,

Ant / Visceral Slice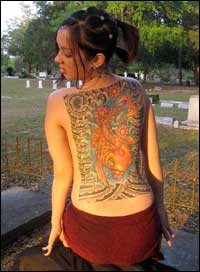 "Every girl should look for meaningful one night stands with a corpse. If you aren't gonna go all the way, why go at all?? " Julie Ghoulie


"Girls and corpses my two favorite things..how the fuck did i not know about you before...this fuckin rocks"

Sundance


"I'm Still Really Confused Weather 2 B Freaked Out By This Or Thinks It's Cool...???...But Showin Sum Luv AnyWay Just B/C U Got Balls 2 Do A Magazine Like This..LOL..."

TT

Be freaked and scared and giddy and nauseaus -- that's the Girls and Corpses formula!

Corpsy


"Dead bodies, dead bodies all over the street,
Fifty-five, sixty-five bodies at least,
I hang with the stiffs till the break of dawn,
I'm always finding bodies when I'm mowing the lawn,
Drag em in the house, throw em in the oven,
Wicked clown lovin that dead body gloven
tastes like chicken finger lickin deep fried,
I ate a dead body, but don't tell, I lied

I just ate my first dead body last week,
Still gots the finger nail caught in my teeth,
Before you start yelling and cursing my name,
Remember something's wrong with my brain, insane.

Beelzeboul's


"I Loved the interview with Sheri Moon Zombie in the new issue! Keep the celebrity interviews coming! I hope to see one with Rob Zombie someday too!" Tricia


"I'm both proud yet embarrassed when I think about how many hours I've spent totally absorbed with your site since discovering it just a few days back. The combination of "Sex Tips from Dr. Necco Feelya", a "Big Trouble in Little China"quote, the HILARIOUS Hollie Stevens, plus the creature feature vixen's makes G&C my new favorite site. It's like one big rotting jambalaya of goodness!!! I'm hoping to pick up a copy of 'Satan's 3 Ring Circus of Hell' from one of the (very few) comic book shops we have in Toronto this weekend."

Stephanie


click here for more letters to the Deaditor