Can You Smell the Stench of the Big Show?

So Skully Knuckledragger is 6 and 4 going into Corpse Bowl XLI., In my defense it's hard to get information down here, but from what I hear my predictions were right on with those in the mainstream media.

CorpseCenter is dead from Miami!! And we are hitting all the rockin parties here. It's like Hades all over!!
(posted 9:00 PST 2/2/2007)

CORPSE BOWL MATCHUP
Indianapolis Colts vs. Chicago Bears
Sunday, 6:25 p.m. ET
February 4th on CBS

We finally made it to Miami. Digging our way through the corpse tunnels below is not an easy thing to do. Zombie Bob is still writhing over his loss to young Manning Skywalker, and is eating everyone in his path, so please stay clear of Patriots fans that are frothing at the mouth. What I love about Corpse Bowl is that all the celebrities come out to party. Just last night I was hanging with Babe Ruth, Ted William's head, and many others including Marilyn herself. I thought I saw Mr. White, but he didn't hang around, he was on the cell phone and then was immediatley whisked away by the fanciest hearse I have ever seen. Ahh to be dead and rich, must be nice. Archie Manning stopped by, but realized he didn't quite fit in, maybe next year Archie!

Since I am still hung over from the fermaldahyde I will make my prediction now, Colts 9 points. It's their year, go get the trophy. The real hard fought game you saw last week between New England and Indy. I gotta get back to my coffin, my skull is killing me!

Here are some quotes from both teams:

The Colts are so primed for this game, there is a concern by the players of reaching an emotional peak too soon. Sunday is a long day, but Saturday will be even longer. The players talk about playing this game in their minds over and over. That, in itself, can get tiring.
"I'm a high-energy guy myself, so I'm trying to deal with it," said linebacker Cato June. "It will be tough for me because I am going to be so excited Saturday night. I'm trying my best to hold back my energy."

There are interesting stories everywhere at the Super Bowl. Consider the plight of Colts offensive quality control coach Pete Metzelaars, who was on the losing end of the Super Bowl four times as a tight end with the Buffalo Bills.
"It would be awesome to get a Super Bowl ring," Metzelaars said. "I've got four runner-up rings; whatever you want to call those things."

Bears coach Lovie Smith was in no mood to address whether the criticism directed at quarterback Rex Grossman this season had gone too far.
"I think the criticism is what it is," Smith said, "and I'll take the next question."

You just knew the week wouldn't go by without Smith being asked about the origin of his first name.

So here's the story: "I had a great aunt Lovanna. They were planning on a girl, they got a boy and we went with Lovie. We have three sons and I have grandsons and all that, but my wife Mary Anne hasn't cooperated with me. I thought it would be a good deal to keep the Lovie name going, but it seems it will stop with me."


---
So Skully Knuckledragger is 6 and 2 going into this weekend's conference series.

It's playoffs weekend. This will determine who is going to the Super Corpse Bowl. Zombie Bob's team is still in the running.
(posted 9:00 PST 1/19/2007)

O.K. so Skully missed two games. Seattle lost to Chicago in overtime, and Marty "what the fuck happened, and why did you throw that damn flag" Schottenheimer is lucky he still has a job in San Diego.

NFC MATCHUP
New Orleans Saints @ Chicago Bears
Sunday, 3:00 p.m. ET
January 21st on FOX

I expected the Saints to be here, but no way did I expect the Bears. This is some crazy shit and ol Skully's head is spinning right round like a record baby. How long has it been since the Bears have reach the big show? I can't even remember. And the Saints? Never. The Saints have never been in the Super Corpse Bowl. But things are going to change now that Brad and Angelina moved to the Big Easy. Da Bears and the Saints are teams that are accident prone, and either one could give up that extra big play. Grossman? Please, the boy is like Dennis the Menace. Look for both teams to get the ground game going early. I like the dynamic duo of McAllister and Bush. I love Bush, don't you? But Chicago has a dynamic duo as well in Thomas Jones, and Cedric Benson. But the war is going to have to come down to Brees vs. da Bears defense. Will they shut him down?

Bush thinks the magic is on his side. A little voodoo never hurt anyone. "It means everything," rookie running back Reggie Bush said. "All that stuff we went through as a team, these are the type of games we live for. And this game is even bigger for the city." I love Bush.

Grossman thinks he is the man and has the upper hand, but how many yards did the Bears let Alexander run for last week? 108 yards to be exact.

"We win one game and we're in the Super Bowl," said Grossman, who also had an interception and a fumble, "two wins away from having a ring on my finger for the rest of my life."

Man I want the Saints to win. Grossman just bugs me. And have I said how much I like Bush? Hell, I love Bush, and New Orleans is host to some of the best ghouls and corpses in the U.S. Just ask Kevin Klemm of the Ed Gein Collection, he will tell you.

I am going with the Saints, because I love Bush!!

AFC MATCHUP
New England Patriots @ Indianapolis Colts
Sunday, 6:30 p.m. ET
January 21st on CBS

The Chargers were my favorite going to the Super Corpse Bowl, but New England somehow fucking prevailed in the Divisional Round. The Chargers beat themselves and messed up Skully's numbers. I bet Zombie Bob was at the game eating some of the SD staff members. I know Zombie Bob has to be on cloud nine right now, probably munching on a guts and intestines pizza while enjoying finger foods. Back you bags Bob, cause it looks to me like the Pats will be going to Miami!

I honestly think the Colts have a better team, but you can't rule out Belichick turning up the heat. Many of the other corpsepondents are picking the Dolts to win, I mean Colts, but something just tells me Laser man, Tom Brady is going to have a lucky day. New England will want it more.

Twice in the last three years, New England has ended Indianapolis' season, making Manning look like a schmuck, with fans questioning his ability to win a big game. Patriots coach Bill Belichick devised some really nasty schemes that forced Peyton into four interceptions in the 2004 conference title game, then found a way to shut him down again the next season in a 20-3 victory in the divisional round. I wonder what Belichick will have up his sleeve this year.

"I think it's the same thing at stake for him (Manning) as there is for all of us," Dungy said. "We've got a group that hasn't been to the Super Bowl. They'd like to get there. We're one step away. Everyone in the locker room wants to do that and Peyton's no different. It's not make-or-break for them and it's not make-or-break for him. We'd just like to get there and do it."

And Belichick is VERY confident in Brady. "There's no quarterback I'd rather have," Belichick said. "Nobody's going to play a perfect game."

And there you have it. Don't bet your plot on it, but I say New England Patriots take down Manning and his team of miscreants. Zombie Bob, I will see you in Miami in two weeks!

Skully Out for Corpse Center!


---
CorpseCenter's own Skully Knuckledragger is 4 and 0 going into this weekend's divisional series.

Welcome back to another round of the NFL Playoff's Corpse Center edition.
(posted 9:24 PST 1/12/2007)

There were absolutely no surprises in last weeks game, unless you want to count Dallas screwing it all up when all they had to do was kick a measly little field goal. But what did I tell you? I said the Romo bus was heading back to Dallas, and it sure as hell did.
This weekend we take a look at last week's winners and those that had the luxury of a bye week.

AFC MATCHUP
Indianapolis Colts @ Baltimore Ravens
Saturday, 4:30 p.m. ET
January 13th on CBS

Our first game brings us to Baltimore or as the yocals call it Balmer Maryland. I smell trouble in this game, and it sure as shit aint my undergarments. Peyton Manning and his Indianapolis Colts are going to be facing one, if not the toughest defense in the NFL. The Colts are not an offense to be taken lightly although, cough, cough, Both Manning's choked hard last weekend. The Colts did a tremendous job of keeping the game competitive even though Manning at time resembled a corpse. The Colts enter this game with the third-ranked offense in the league, and their fourth straight appearance in the divisional playoffs, while the Ravens have not been in a playoff match since 2003, there might be some rust on those cleats. Then again they could be well rested. Don't look for the crowd to be cheering for Indy either, remember, the Colts left in the middle of the night 23 years ago!!

"It's a big challenge," said Manning, who is 3-2 in home playoff games and 1-4 on the road. "Playing Baltimore is tough enough, but to go there -- I think it's one of the tougher places to play. And they've been off a week and are fresh."

Defense vs. Offense in this game. I gotta go with Indy getting one step closer before falling flat on their face.

NFC MATCHUP
Philadelphia Eagles @ New Orleans Saints
Saturday 8:00 p.m. ET
January 13th on FOX

Holy mother of God, the Eagles led by Jeff Garcia smacked the living hell out of the Giants, and sent them home in a body bad. Garcia vs. Manning? I expected more. Maybe though Garcia will have to face big brother Manning in a few weeks and Garcia impales his head on a stake like that Brad Pitt, Orland Bloom movie "Troy" where Achilles' cousin gets murdered, never mind, that was a BAD movie and a bad sports analogy. Besides that will never happen because Philadelphia will not win in New Orleans. Reggie Bush is coming into his own and the Saints offense is a force to be reckoned with.

The bad news is the Saints have a rookie coach and have not been to the playoffs since 2000. Wait it gets worse, the Saints have won only one playoff game since their inception. The Eagles have been to the playoffs five times in the last six years. Reid is a veteran, the team has been there before. Westbrook is questionable, but probable. The turf in the dome is tough, it could be hard to get that running game going.

Strawberry Garcia on Brian Westbrook:
"I think Brian is just a guy who is truly driven within himself to be the best possible player that he can be."He's a true football player. He understands the game. He understands the intangibles of the game; what he needs to do in order to be successful. He's just an awesome player to have on this team." I so want to say the Saints kick the living shit out of the Eagles but it's so hard. I feel an Eagles win, but have to go with the powerful Saints at home.

NFC MATCHUP
Seattle Seahawks @ Chicago Bears
Sunday 1:00 p.m. ET
January 14th on FOX

Somebody shoot me. The Bears are riding on the back of a top but wounded defense and the inconsistencies of T-Rex Grossman. Da Bears have da fifth ranked defense in the league but those guys are banged up. But how the fuck did Seattle win that game last week?

Romo had the package wrapped and shipped, but he screwed the pooch big time! Hold on a sec, I have that saved on my Tivo here. Yep if you are going to botch a field goal for the win, you better cross that goal line. Oh well, too bad, so sorry. But now the Hawks are in the windy city and looking to mess up da Bears. I say once again Seattle pulls out a win from under the rug. Grossman will shrivel up and not perform up to da Bears standards. Holmgren won't soon forget what happened in week four either when the Bears dismantled the Seahawks 37-6. Hasselbeck is out for revenge.

"Shaun Alexander is back and Jerramy Stevens is back, too, so it's going to be a whole different game," said safety Ricky Manning Jr., who had both interceptions for the Bears in the first meeting. "They're definitely a better team now."

Lots of Grossman turnovers, and a strong Seattle offense brings this win back to Microsoft, the land of gazzilionaires, computers and geeks.

AFC MATCHUP
New England Patriots@ San Diego Chargers
Sunday, 4:30 p.m. ET
January 14th on CBS

O.K. now we are getting to the nitty gritty. One of these two teams will be in the Corpse Super Bowl. San Diego Super Chargers led by Tenacious M. Marty Schottenheimer is going for the kill. And they have to, Marty has something to prove to the world.

He could have done it with the Redskins, but Danielle Snyder fired him, not just fired him but made him wait until after a game for two hours, and then fired him. But Marty got the last laugh on Little Danny Snyder. Danny had to continue paying Marty's salary even though he fired him, and the worst part is the Skins were winning when Marty was fired.

Forget the Deadskins though and their spoiled brat Tom Cruise ass kissing owner. Marty went on to bigger and better things. Martyball is big, have you heard of it?
He takes a running back and turns him into a rock star on the gridiron. In this case it's L.T., No not the drug addicted linebacker who does voice overs on soft porn video games, I am talking about LaDanien Tomlinson, the NFL's MVP player of the year, and he is a nice kid too! So against all odds Marty has a winner in San Diego.

"He's the MVP. I don't know how you could be any more complete than that," Patriots coach Bill Belichick said. "He's looked pretty good to me, unfortunately, every time we've seen him. We're usually looking at the back of his jersey. We haven't done very well against him. He's killed a lot of people besides us, and he's killed us."

But can they beat the New England Patriots and Tom Brady?
In San Diego, I say they not only beat them, I say they put an ass whoopin on them.
No just kidding, this will be a super close game that comes right down to the wire, but without hesitation I say Sorry Zombie Bob, New England pushes up daisies and the Chargers move on up.

That's it for CorpseCenter.

Skully Knuckledragger
Sports Corpsepondent


---
I don't know what I like more, the girls, yes they are warm and provide a great service for my physical needs, or the corpses, ok they are fun to look at, but nothing else really comes to mind besides the occasional conversation I have with them at three in the morning, or the NFL playoffs starting with Wildcard weekend! I think I might just have to take the playoffs over everything. There is just nothing like the feeling of the NFL Playoffs. I mean c'mon you see the Don Cheadle commercials. It's playoff time baby, and that is enough to get my blood flowing.
When the Deaditor in Chief , R.S. Rhine first approached me about being a sports correspondent for Girls and Corpses Magazine, I laughed my ass off. Then he showed me the cover of the Corpse Bowl issue, and I was in. How many fans of this rag are also sports fans? Only time will tell. Let us know what you think, or don't, this doesn't put any extra coin in my pocket, so just enjoy it, but whatever you do, do not use this info for any kind of gambling, and if you don't get what I mean, please take the time to read the site disclosure below.
Before I start on my weekend match up, I want to take a moment to bring up something serious. Last weekend Denver Broncos CB Darrent Williams was gunned down in a drive by shooting. Some cocknozzle fired bullets directly into their stretch hummer limo. There was talk of an altercation in a nightclub that night, but they have not linked that to the shooting. Williams was only 24. This shit is too fucked up, He was a good kid, with a promising future. We at the Girls and Corpses family send our condolences to the Williams family, and before you ask ...no, we will not be featuring his corpse here.

On to the weekend match ups.

Saturday 4:30 P.M. ET
Kansas City Chiefs @ Indianapolis Colts
Broadcast on NBC
The Chiefs are in a world of shit if they think they can beat the Colts at home. The Colts have been undefeated at the RCA Dome this season. The last time the Colts had an undefeated season at home was in 1958, when the Colts were still in Baltimore. But alas, Peyton Manning has been known to choke on big games. A game against Pittsburgh last year around this time comes to mind, and oh yeah the Steelers went on to win the Super Bowl, shoulda been the Colts damnit. The Chiefs do have Larry Johnson though at running back, and Larry set an NFL record for carries this season. 416 carries to be exact. With the Colts being weak against the run, this could make the game interesting, however my pick remains Indy. I still think they will choke later on though.


Saturday 8:00 P.M. ET
Dallas Cowboys @ Seattle Seahawks
Broadcast on NBC
How the hell did the Cowboys end up in the playoffs? I'll tell you how, the NFC sucks this year. The Seahawks made it to the big show last year and proved a lot of the critics wrong about the team, but can they get there again? I'm not so sure, what I am sure is that they pass by T.O. and the Cowboys and move up the ladder. The Cowboys have had a horrid closing the regular season. But watch out for their secondary, it's on fire. The Hawks are not in much better shape, and have had major problems with their secondary, but they are playing at home and that should be enough of an edge for the Hawks to move on. I will be watching this game with my favorite corpse. No Not Jerrah Jones, although who knows if he will ever end up on the cover here. The Romo bus stops on Saturday and heads back to Dallas.


Sunday 1:00 P.M. ET
New York Jets @ New England Patriots
Broadcast on CBS

This game promises to be a battle between the head coaches. For those that don't know, Jets head coach Eric Mangini served under Patriots head coach Bill Belichick for six years. So let's look at a few other factors. Tom Brady is on fire. This game is in New England, and well, Tom Brady is on fire. As a New Yorker myself, I would love to see the Jets just bitchslap the Pats and move on to the next round. Keep in mind the last time the Jets played the Pats was back in November when the Jets won in Foxboro. I don't think they can do it again. Pats squeak this one out.


Sunday 4:30 P.M. ET
New York Giants @ Philadelphia Eagles
Broadcast on FOX

Two more teams from the NFC East in the wildcard games. That's three out of the four NFC East teams. This will be the match up to watch. If you watch only one game this weekend, make it this one. These two teams are so compatible, that it could really go either way here. Jeff Garcia is holding his own with the loss of McNabb, and rallied the Eagles to beat the Giants two weeks ago. But the G-men did beat the Eagles with McNabb in overtime on the Eagles home turf in week two.

So what has really changed here? One name comes to mind, Tiki. Tiki Barber is retiring from the NFL but has been playing like he is on a mission from God. Had the Deadskins beat the Giants, the Giants wouldn't even be in the playoffs. But Tiki ran for over 200 yards, and unless the Eagles find a way to shut down the Barber machine, and put the game on Eli, then you can bank on a Giants win. However if the game does end up in the hands of young Manning Skywalker, Look for the Eagles to move on to the next game.
Well that's it from Corpse Center. I do have to get back to my real job now. I hope you sick people enjoy this article and this site, and look for my column next week, when we match up the "real" playoff games.

Skully Knuckledragger
Sports Corpsepondent

Click here to watch the premiere of Zombie Law
If you have Corpse Center questions please click here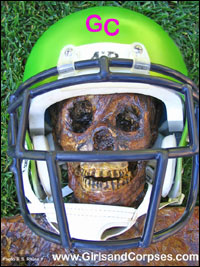 Skully Knuckledragger
Sports Corpsepondent