enlarge cover

Girls and Corpses is now on newsstands worldwide!

ORDER THIS ISSUE NOW
click here

Take a Hell Ride with actor DANNY TREJO (Machete) & British babe DANI DIVINE in PAPER MACHETE of DEATH. This historic motorcycle-centric issue features: RUSTY COONES (Sons of Anarchy); ROBERT LaSARDO (Anarchy Parlor); grindhouse biker star LARRY BISHOP (Hell Ride); Makeup effects outlaw TOM SAVINI; The Loveless ROBERT GORDON; James Bickert's Frankenstein Created Bikers (featuring Corpsy!); badass bands Pentagram, Kissing Candice and Girlschool; History of Biker Horror flicks; and 8 page horror comic The Tattoo Artist; more Last Laughs; and everything a weekend warrior desires. So, all you organ donors, bring your brain buckets because this rag is a real tank-slapper. Now order this issue pronto! I mean… we got DANNY Freakin' TREJO!!
World premiere of the Girls and Corpses Music video 'Road To Hell' by The Reach Around Rodeo Clowns.

Watch The World Premiere of The Girls and Corpses Animated Music Video "I'm Just A Crazy Fucked up Bitch" sung by The Fabulous Miss Wendy!

ROAD LAWYERS
"They're Lean...They're Mean...They Run on Caffeine."
Click to watch trailer.

WARNING! New Girls and Corpses Music video Bodies In My Basement

Girls and Corpses Summer issue music video Bad Dudes A Surfing by The Reach Around Rodeo Clowns.

Girls and Corpses racerback tank top in vintage white! Exclusive artwork for G&C by famed Japanese artist Peach Momoko American Apparel extra soft tri-blend, screen printed with super soft (no feel) printing. Ladies Small only. Click here for more info

Killer Mash-up song tribute to Sheri Moon Zombie & Sailor Moon by Girls and Corpses Magazine & The Clownettes: sailormoonzombie.com

Pussy Magnets
Girls and Corpses Back Issues!!! You only die once. Order now

| | | | | |
| --- | --- | --- | --- | --- |
| | | | | |
| | | | | |
| Print Issue #26 | | Print Issue #25 | | Print Issue #24 |
| | | | | |
| | | | | |
| Print Issue #23 | | Print Issue #22 | | Print Issue #21 |
| | | | | |
| | | | | |
| Print Issue #20 | | Print Issue #19 | | Print Issue #18 |
| | | | | |
| | | | | |
| Print Issue #17 | | Print Issue #16 | | Print Issue #15 |
| | | | | |
| | | | | |
| Print Issue #14 | | Print Issue #13 | | Print Issue #12 |
| | | | | |
| | | | | |
| Print Issue #11 | | Print Issue #10 | | Print Issue #9 |
| | | | | |
| | | | | |
| Print Issue #8 | | Print Issue #7 | | Print Issue #6 |
| | | | | |
| | | | | |
| Print Issue #5 | | Print Issue #4 | | Print Issue #3 |
| | | | | |
| | | | | Click here for our 15 internet issues before we went to print. |
| Print Issue #2 | | Print Issue #1 | | |
| | | | | |

"The comics are crazy, the fake ads are hilarious, the girls are hot, and the corpses are fetid! I also really dig the interviews with Sheri Moon Zombie (adorable), Jim Smith (hilarious), and motherfucking Jorg Buttgereit (genius)! " - John Skipp (Author/creator of Splatter Punk)

"What an amazing magazine!"
- James Wan (Director "Saw" I, II, III)"

"Sigmund Freud once said the world's two greatest taboos were sex and death. Leave it to award-winning horror writer Robert Steven Rhine to bring them together." - The Naughty American


"Congratulations on a great issue and cover! Lovely job. A high quality magazine with great artists!" -- Basil Gogos (Famous Monsters cover artist)

You don't know what to look at first, or whether to laugh or cry or vomit." - L.A. Weekly

"Girls and Corpses puts the FEEL in NECROPHILIA!" - Director Joe Dante

"Our favorite magazine Girls and Corpses has finally arrived!" - Bizarre Magazine

"The world's most bizarre magazine in history" - Odee.com

"How did I not know this magazine existed?" - Mick GarrIs (Exec Prod. Masters of Horror )

"Hot chicks and horror -- man I love it!" - Chris Gore -- Editor Film Threat Magazine

"This has to be one of the wierdest yet amazing reads for a long time! More over Bizarre, there's a new freak read in town!" -Devolution Magazine(UK)

"The Necro-Humour Apostle, Robert Steven Rhine... A Jack of all trades whose work is steeped in the blackest of humour." -- Rue Morgue Magazine

"I love Girls and Corpses Magazine because it is disturbingly delightful & outstandingly macabre! Take Hot Bitches, Corpses, Sex & Death then throw it in a blender and there you have it! A morbid mindfuck of the highest callibur that's sure to please the necrophile in anyone!" - Gashley Darcane / Red Scream Magazine

"One of the best magazines ever conceived." "Girls and Corpses is a hilarious bit of satire, taking the scantily clad pseudo-porn of Maxim and Stuff, and taking it way over the line in a brutally comic way. It's a brilliant parody of that culture, with enough offensiveness and mixed-necro-messages to traumatize any child who would pick it up accidentally. To me, that's always the mark of a great read." – Bookgasm - For the complete review click here

"Love that mix of hot blooded sex and cold blooded murder" - Rodrigo Gudino, President Rue Morgue Magazine

"Robert "Corpsy" Rhine is The Hugh Hefner of Horror" --Newsbleak

"The corpses are naked and the girls have to wear bikinis! Whats wrong with you guys?" - Jörg Buttgereit (director "Nekromanik")

"I'm your fan!" - Herschell Gordon Lewis "The Godfather of Gore"

"Freaky, funky, tongue-in-cheek fusion of lad mags with softcore zombie porn. A slick, hilarious evisceration of innocuous newsstand fare, G&C lures gore freaks and sex nerds alike to caress its glossy pages." - Eros Magazine

"Girls and Corpses is a hilarious bit of satire, taking the scantily clad pseudo-porn of Maxim and Stuff, and taking it way over the line in a brutally comic way. It's a brilliant parody of that culture, with enough offensiveness and mixed-necro-messages to traumatize any child who would pick it up accidentally. To me, that's always the mark of a great read. – Bookgasm

"Girls & Corpses Magazine is my bible, my Buddah, my Koran, my Torah . . . I don't make any decisions without consulting your brilliant publication. It's a huge honor to be featured on the cover of Girls and Corpses Magazine, truly the last fair and balanced media outlet standing. Once I finally get the courage to blow my fucking brains out, perhaps you can feature me again!" -- Lloyd Kaufman (Iconic horror filmmaker and Troma President)

"I first saw Girls and Corpses at a Fangoria convention and I couldn't believe that there was a magazine that combined my two favorite things in such a wonderful creative way. And I read it and I thought it was so funny, tongue planted in rotted cheek, and really really smart and it's actually the magazine I take with me on airplanes... I'll always be sitting there reading Girls and Corpses because the reaction you get from the people around you is often as entertaining as the magazine itself. Girls and Corpses... two great tastes that go together!" -Eli Roth Director/writer/producer/actor (Hostel 1&2, The Last Exorcism, actor in Inglorious Bastards).

Congratulations on your magazine you sick bastard! - Iconic film director John Landis

"I must say that I'm not the easiest person to impress but GIRLS AND CORPSES magazine has me floored. What a great concept for a magazine! GIRLS & CORPSES is irreverent, most definitely politically incorrect and breaks a lot of taboos but it's an undeniable fun read and one of the best magazines I have ever come across. It gets my highest recommendation. This should be on your subscription list if you are a horror fan." - Buried.com - Read full review: click here


"Pretty Horrifying stuff. This guy's got a sick mind." - Jimmy Kimmel

"I thought I had seen everything!" -Jackie "The Joke Man" Martling

"Reading this magazine is something to die for!" - Amy Fisher (The Long Island Lolita and star of the XXX "Amy Fisher Caught On Tape")

"Possibly the most bizarre magazine in the history of the world." - Reddit

"G&C is a manic cross of The Man Show and Creepshow." - News Of The Dead

"Straddling that fine line between brutal tastelessness and hilarious misogyny, Girls and Corpses is very much a throwback to the humor mags of the late '70s/early '80s, with a very pointed, sarcastic POV that recalls some of the best issues of National Lampoon. I hope that the might Conde Nast publishing empire will soon be acquiring them!" - Wired Magazine

"Wow -- it looks great!!! I love Girls and Corpses Magazine -- You can't go wrong with hot chicks & the dead!!" - XOXO - Sheri Moon Zombie ("The Devil's Rejects" Rob Zombie's "Halloween")

"Laugh? We nearly died!" - Penthouse Magazine

Watch SICKCOM the sick animated comedy!

This is
how the world will end
Behind-the-Screams with GILBERT GOTTFRIED, Allie Haze and Sensi Pearl at Girls and Corpses winter cover shoot.
Watch Corpsy's morbid comedy pilot: Vinnie and Angela's Beauty Salon & Funeral Parlor.

Meet Corpsy and Girls and Corpses on
G4 Electric Playground
Listen here to the outrageous Country/Death Metal hit from Girls and Corpses Records.
Sick New Graphic Novel Kids! Corpses Love 'em! Buy It Here... NOW!

SATAN'S 3-RING CIRCUS OF HELL

written by R.S Rhine. 43 top horror artists. 280 glossy, color pages. Order Now!!!


Michael Berryman ("The Hills Have Eyes") can't take his off the horrific Satan's 3-Ring Circus of Hell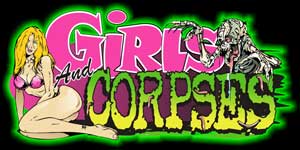 SURGEON GENERALS WARNING:
Side effects to reading Girls and Corpses Magazine may include: Nausea, vomiting, giggling, rickets, munchies, intestinal gas, heavy breathing, priapism, elephantitis, staring, bluish tint in genital region, unprecedented pubic hair growth, facial tics, priapism, fever, anal rash, bleeding orifices, sense of unreality, repeating other people's words, glowing green feces, impotence, skim milk lactation in women, hair growth in eyeballs, penis growth from forehead, nipples occurring in random places, vomiting meatballs, psychosis, homicidal ideation, coprophagia, temporary levitation, jaundice, foul-smelling sweat, tongue tumors, urinating diarrhea, inappropriate laughter, hysteria, schizophrenia, synesthesia, vein disintegration, confusion, anti-social behavior, death, premature aging, formation of tail, blindness, spontaneous orgasm, xenophobia, paranoia, crotch rot, skin sloughing, absurdist mental state, immortalityand spontaneous combustion. This site contains depictions of dead things, actual beautiful women, dark comedy and simulated acts of affection between the living and the dead. If you are offended by any of these things, throw out your television immediately. G&C is for external use only. Please consult your mortician in case of accidental or forced ingestion.Made from 100% recyclable corpse.10% of all proceeds will go to Necrophiliacs Anonymous. Do not operate a motor vehicleor heavy machinery while pleasuring yourself to G&C.
No corpses were harmed in the making of this magazine. All corpses are 18 years of age or over
Girls and Corpses is a registered trademark of Robert Steven Rhine. All material, characters and artwork on this page and all linked pages are the property of Girls and Corpses Magazine and are protected under United States and InternationalTrademark and Copyright Laws. All Rights are Reserved. No permission is granted and, in fact, it is strictly forbidden to make use of this material, in whole or in part, for any purpose without obtaining written permission. For site security purposes, this computer system employs software programs to monitor network traffic to identify unauthorized attempts to upload or change information, or otherwise cause damage. Unauthorized attempts to upload information or change information on this website are strictly prohibited and may be punishable under the Computer Fraud and Abuse Act of 1986 and the National Information Infrastructure Protection Act. Information from the above mentioned software may also be used for authorized law enforcement investigations. In other words... don't fuck with the dead.
Over one billion corpses served!


Exclusive no-holes barred interview with controversial, pornographic actor / producer / director MAX HARDCORE, aka Paul F. Little, who spent two and a half years in prison (2009–2011), convicted in a rare modern trial for obscenity. Hosted by Robert Corpsy" Rhine, Publisher / Deaditor-In-Chief of Girls and Corpses Magazine.

Girls and Corpses visits the 2016 AEE/AVN Adult Convention at The Hard Rock Hotel in Las Vegas! Three sexy videos!

EXCLUSIVE: Danny Trejo interviewed by Corpsy on set of Girls and Corpses Magazine

Girls and Corpses Magazine was on Comedy Central's @midnight

NEW!!! SICK illustrated comedy book "LAST LAUGHS: Gallows Humor" from the creator of Girls and Corpses Magazine. Order now here

Check out our restored Girls and Corpses company car a 1959 Cadillac (Miller Meteor) hearse.
Listen to Corpsy on The Statement Show podcast with Zach and Terry

Andy Cohen on Bravo's 'Watch What Happens Live' asks, "Is Girls and Corpses a real magazine?"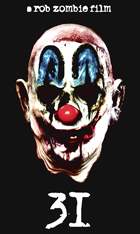 Rob Zombie's movie "31," Executive Produced by Robert "Corpsy" Rhine,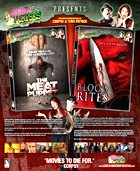 Sneak Preview of Girls and Corpses Presents movie wraparounds with hosts TERA PATRICK and CORPSY. Click to watch.

Girls and Corpses on
The Best of Southern California KCAL/CBS

Video: Go behind-the-screams at a Girls and Corpses cemetery shoot with Corpsy and his Corpsettes Lynn Pops & Ivy Ferguson. Click here.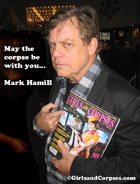 Mark Hamill. May the corpse be with you.

George Romero
eats Girls and Corpses Magazine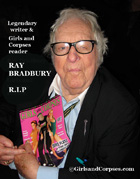 Ray Bradbury... Girls and Corpses reader. R.I.P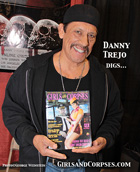 "Machete's" Danny Trejo digs Girls and Corpses.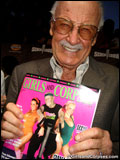 Stan Lee cracks up over Girls and Corpses.
Dave Navarro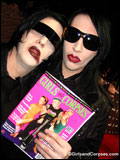 Marilyn Manson and Twiggy Ramirez embrace Girls and Corpses.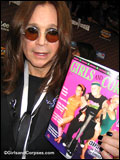 Ozzy Osbourne gets high on Girls and Corpses
Read Girls and Corpses. It's a matter of laugh and death.
Link to G & C!
Dying to be in
Girls and Corpses?
Girls and Corpses
is for you. We'd love to hear your input, be it positive or negative. e-mail
"Live fast, die young and leave a good-looking corpse... for us."